Description
In-vehicle Dog Tracker and GPS Navigator
In the Box:
Garmin DriveTrack 70 LMT
Preloaded TOPO U.S. 100K maps and detailed street maps of North America
Lifetime maps¹ and traffic² (indicated by "LMT" after model number on the box)
Lifetime traffic antenna/vehicle power cable
Vehicle suction cup mount
USB cable
Quick start manual

When your sporting dogs are on the hunt and you're following in your truck, Garmin DriveTrack is your "big picture" tracking solution. It combines on-road and off-road GPS navigation with wireless link technology that lets you clearly view each dog's location on its large 7.0-inch color map display.
See Where Your Doggone Dogs Have Gone
Garmin DriveTrack syncs wirelessly with compatible Astro 430 and Alpha 100 handhelds to help track and retrieve your sporting dogs in the field. You'll see markers for each dog within tracking range, overlaid on TOPO U.S. 100K contours or satellite image views on the large GPS moving map display. Directional cues help you easily follow and locate each dog you're tracking. Plus, for travel on roads or highways, the Bluetooth®-enabled Garmin GPS combines the latest in driver alerts, voice-activated navigation, lifetime¹ maps of North America, free lifetime traffic², Active Lane Guidance and much more.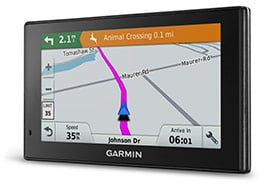 Helpful Driver Alerts
When you're on the road, Garmin DriveTrack dog tracker and GPS navigator provides driver alerts to encourage safer driving and increase situational awareness. Warnings include alerts for sharp curves, speed changes, railroad crossings, animal crossings and more. Additionally, the unit gives a heads-up if you're driving the wrong way on a one-way street — and also sends warnings when approaching nearby school zones. Receive alerts for nearby red light and speed cameras³, and be prepared for sudden halts in traffic with upcoming traffic jam alerts4. For longer drives, a fatigue warning suggests break times and potential rest areas after hours of driving5. The Up Ahead feature shows places and milestones along your route — right on your navigation display — to help you know what's ahead before you reach your destination.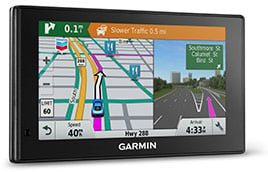 Free Lifetime Traffic Avoidance
Garmin Traffic can give details about the situation, such as how many minutes of delay to expect and if there are any possible detours. It can even confirm whether or not you are on the fastest route. Lifetime traffic entitles your Garmin DriveTrack to receive free traffic information for its useful life, with no ads and no subscription fees. Garmin Traffic is delivered straight to your Garmin DriveTrack — no smartphone needed.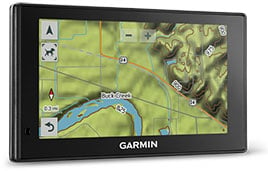 Guidance Using Recognizable Landmarks
Garmin DriveTrack redefines "spoken turn-by-turn directions" with Garmin Real Directions™, easy-to-understand driving directions that guide like a friend, using recognizable landmarks, buildings and traffic lights (e.g., "Turn right after the red building" or "Turn left after the QT"). It's preloaded with millions more new and popular places, thanks to Foursquare®.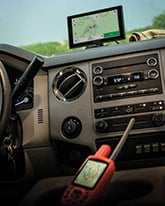 Find Exactly Where You Need to Go
The Direct Access feature on Garmin DriveTrack simplifies navigating to select complex destinations, like airports and shopping malls, by finding a place within a larger location. Direct Access even navigates through parking lots to find the entrance nearest your destination. When navigating to the mall, Direct Access gives additional location information for specific retail stores inside. For example, "Arriving at Woodfield Mall. Champs Sports is inside, on the lower level."
One-stop Device Management
Use Garmin Express™ to keep your Garmin DriveTrack dog tracker and GPS navigator up to date. Garmin Express makes it easy to update maps and software, transfer favorites to and from devices and install free custom vehicles and voices.